How can I find and use coupons?
Sellers may offer a variety of coupons for items on GunBroker.com. All active and available coupons appear publicly in the Coupon Center available through the top navbar.

The Coupon Center allows you to search for coupons by type (dollar or percentage off) and by seller. From the Coupon Center you can shop items for sale by specific sellers and copy coupon codes for checkout.
Coupons apply either by reducing the sale price by the specified dollar amount or percent off. Sellers can require a minimum purchase price and/or specify an expiration date and time. To use a coupon, purchases must be completed before the coupon expires.

Sellers that offer coupons will also have a link displayed on each applicable item. The link may show that the seller offers coupons or may show a specific coupon offer. Coupon information is displayed below the buying block when viewing an item. Clicking the link to View Seller's Coupons displays all coupons actively available from the seller.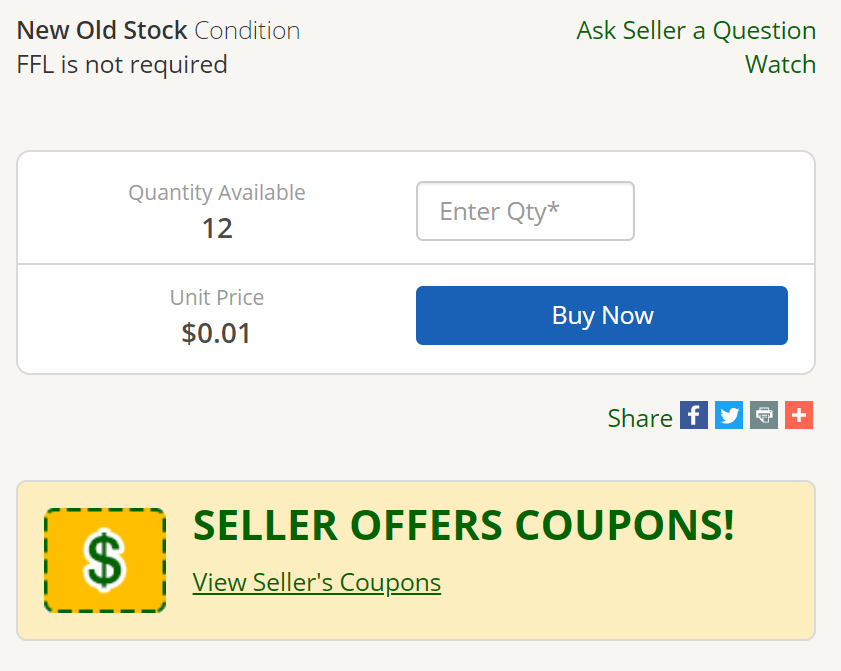 You can enter a coupon code during checkout under the Order Summary. Enter the code and select apply to verify if the coupon is valid. Though coupons reduce the merchandise total, the total discount cannot exceed the merchandise total.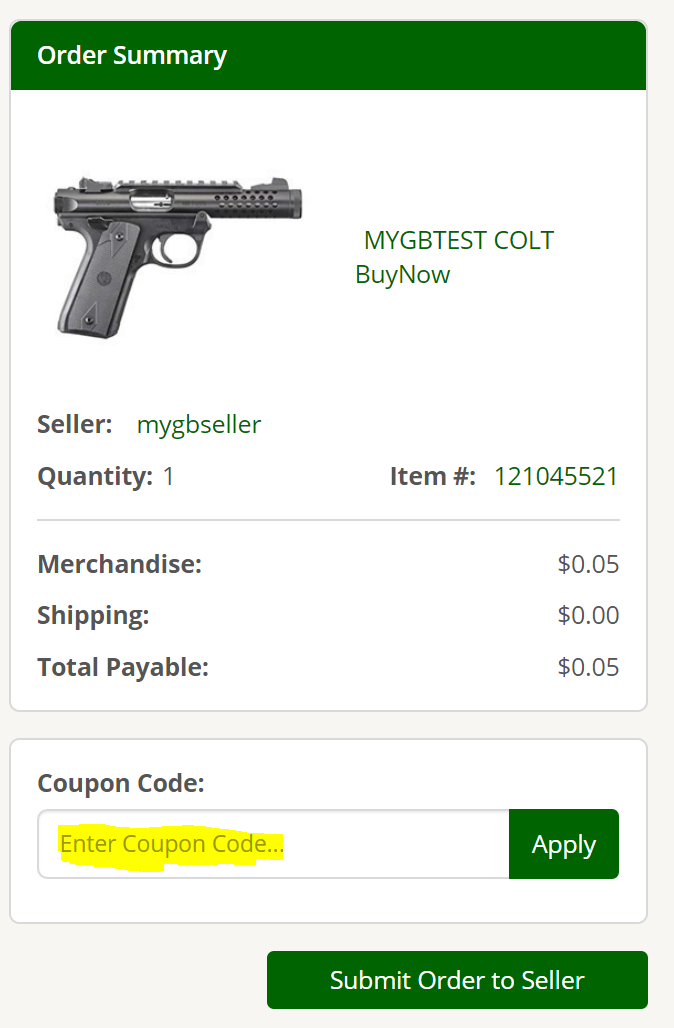 To use a coupon code you must check out through GunBroker.com Checkout.
How do I create a coupon?
Sellers have fine-tuned controls of coupons through:
My GunBroker > Toolbox > Coupons.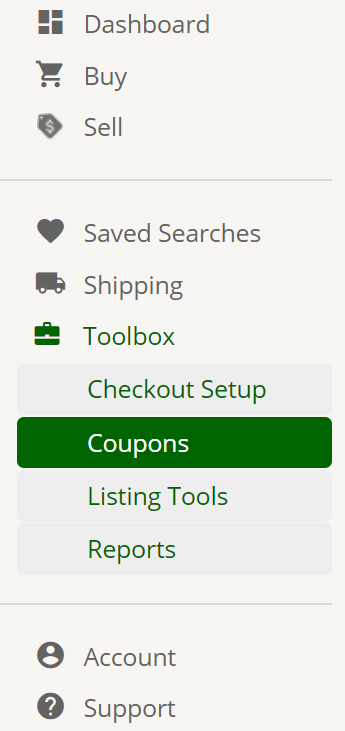 Once in the coupon list, select Create Coupon above the Coupons grid.

To create a coupon, simply fill out the coupon details on the Create a Coupon Code page. Starting 9/5/2023, sellers can now offer a variety of coupons by manufacturer, UPC, or category.

What's the difference between these options? Which should I use?
General: Apply to all a seller's items available for sale that meet the requirements established by the coupon.
Manufacturer: Currently supports firearm & ammo manufacturers, by category. First choose a category, then a manufacturer within that category. Add multiple manufacturer coupons or use exclusions to allow a coupon to span multiple categories.
UPC: Item specific, but can specify multiple UPCs in the same coupon by pressing +Add after each.
Category: Apply to all items in that category (all categories available).
How do I add exceptions?
Starting 10/16/2023, new options became available allowing sellers to control coupon availability for specific Item Conditions, and/or add exclusions for category, manufacturer, and individual UPCs, further improving fine-grain coupon control. Simply select the option when creating a coupon to enter desired exception(s).

Ex. 1: Uncheck these boxes under Item Condition to exclude Used and New Old Stock items:




Ex. 2: Excluding a Manufacturer (Colt) and UPC in a Category-based coupon:


What else do I need to know about coupon creation?
Coupon codes must be unique (codes can't be reused).
Only one coupon code can be redeemed per item.
Be aware that all information entered here is visible to all users in the Coupon Center (see screenshot below).
Coupon codes can be edited until they start. Once the start time has passed and the coupon is active, the only thing that can be edited is expiration date and time. It is recommended to create coupons in advance to allow for editing, if needed.
All active coupons are displayed publicly in the Coupon Center:

Note: Final Value Fees are calculated on the selling price of items before coupons are deducted.

You can view, filter, and sort coupons from the Coupons grid to see to ended, active, and scheduled coupons:

The most valuable available coupon is automatically displayed on applicable items. So long as a seller has at least one active coupon, a link to the coupon center to view all of the seller's available coupons is displayed on items for which no coupon applies instead, as shown below: