How can I find and use coupons?
Sellers are able to offer coupon for items that they are selling. Available coupons will appear in the Coupon Center for all sellers that are offering coupons.

Coupons are good for either a dollar amount off or a percentage off. The seller may stipulate a minimum purchase and the coupon may be available for a limited time. In order to use the coupon you must complete checkout before the coupon expires.
The Coupon Center allows you to search for coupons by type (dollar or percentage off) and by seller. From the Coupon Center you can shop items for sale by specific sellers and you have the ability to copy the coupon code to use during checkout.
Sellers that offer coupons will also have a link display on their items. The link may show that the seller offers coupons or may show a specific coupon offer. You will see the coupon information below the buying block when viewing an item. The coupon offer links to all the coupons offered by the seller.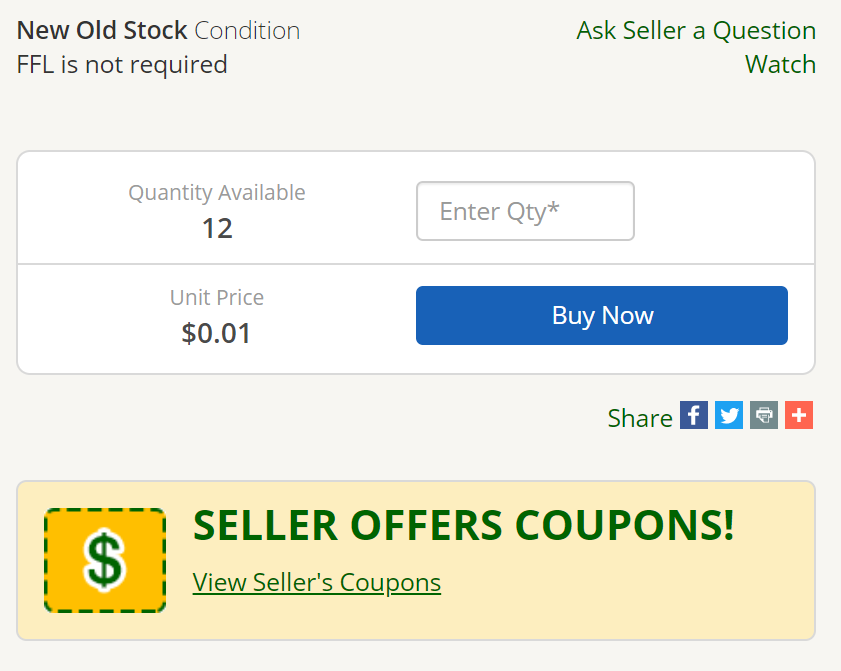 You can enter the coupon code during check out under the Order Summary. You enter the code and select apply to see if the coupon is valid. Coupons apply to the merchandise total and the discount cannot exceed the merchandise total.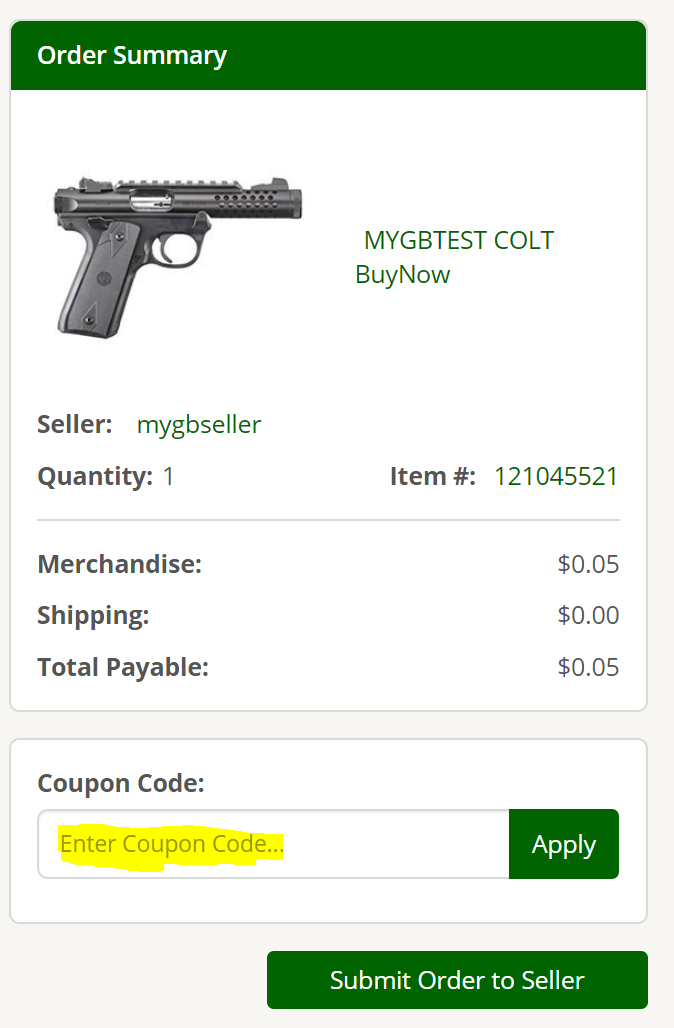 To use a coupon code you must check out through GunBroker.com Checkout.
How do I create a coupon?
As a seller you can create coupons for your customers within your My GunBroker > Toolbox.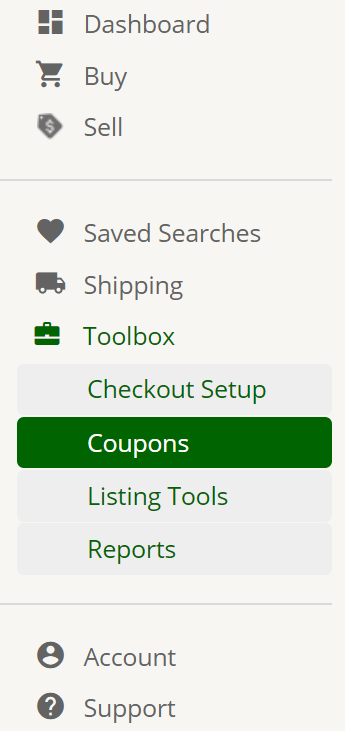 Once you are in your coupon list you can select Create Coupon above the Coupons grid.

To create a coupon, simply fill out the coupon details on the Create a Coupon Code page.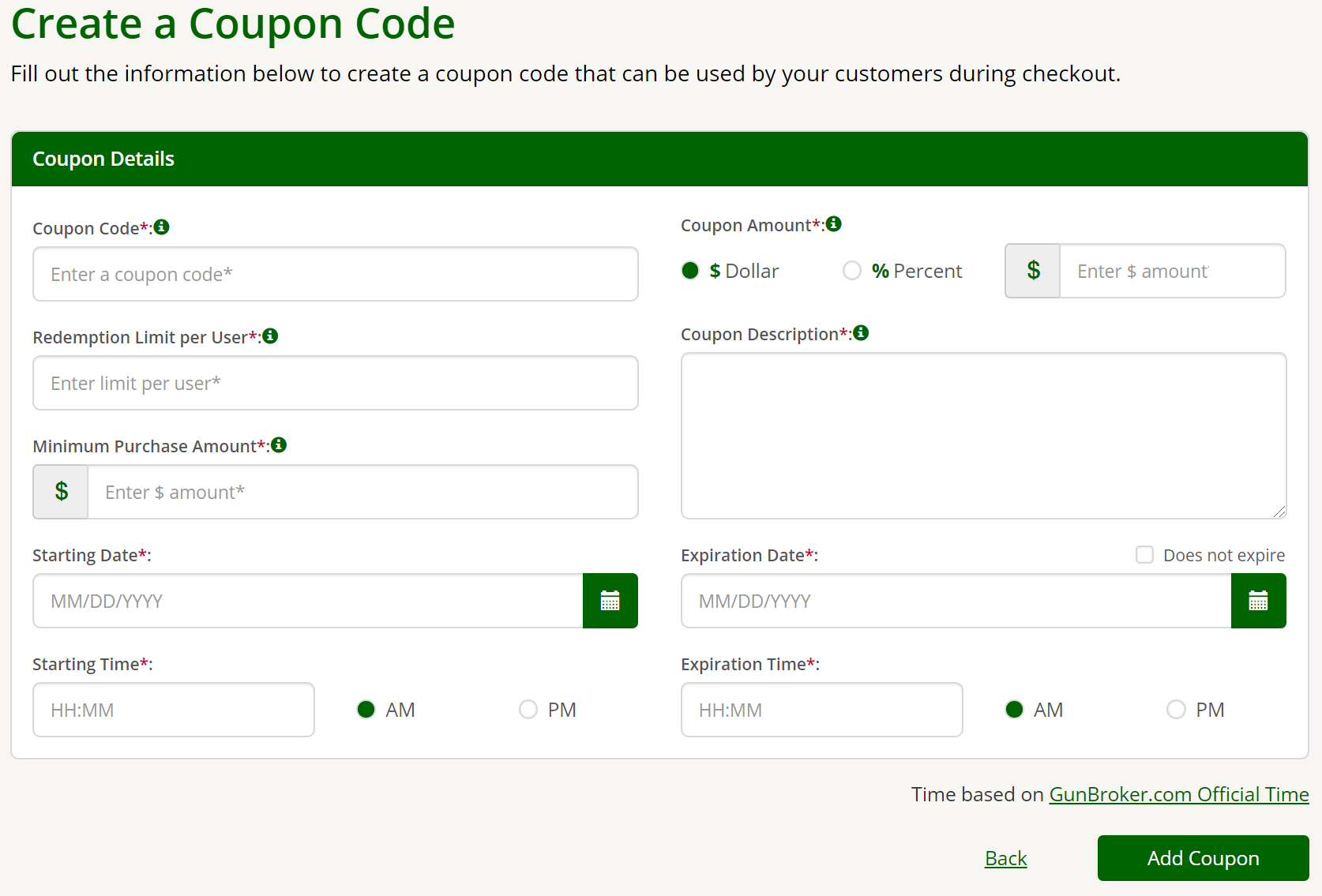 Your coupon code must be unique (you cannot reuse codes). Be aware that all the information you enter is visible to all users. Coupon codes can be edited until they start. Once the start time has passed the only thing you can edit is the expiration date and time. It is recommended that you create your coupon in advance so you can edit it if needed.
Buyers can use coupon code in GunBroker Checkout. This is the only place that coupons can be entered.
Final Value Fees are calculated on the selling price of the item before the coupon is deducted.
You can view, filter and sort your coupon within the coupon grid. The filters will allow you to see ended, active and coupons that have not started yet.
Your active coupon will show in the coupon center.

Coupon information will also display on your items. The best applicable coupon will be shown to the user. If there is no applicable coupon, a link to the coupon center for all your coupons will be displayed.