What is Layaway?
Layaway is a payment plan allowing a buyer to purchase an item and make payments to the seller for the item over a predetermined period of time. The seller will ship the product when payments are complete.
Buying with Layaway
How Do I Find Items Offering Layaway?
You can search for items offering layaway using the filter on the search results page or by selecting Layaway Available from the Item Qualifiers list on Advanced Search.
Search Results: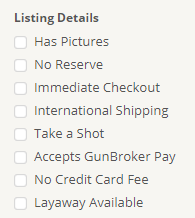 Advanced Search:

Items with Layaway Available will display information in the Search Results with a Layaway Available indicator.
Search Results:

Items will show a Payment Plan stating "Layaway Available" as part of the listing terms.
View Item:

How do I know the Seller's Layaway Policy?
You can view the seller's layaway policy by clicking on the View Layaway Policy link. This link is available on the Payment Plans section on Item Details page and in the Payment Information section within Checkout.
All layaway policies are set by the individual sellers. They can vary greatly from seller to seller so be sure to read them carefully for each item you purchase.
Item Details – Payment Plans

Here is an example of what shows when you view the layaway policy: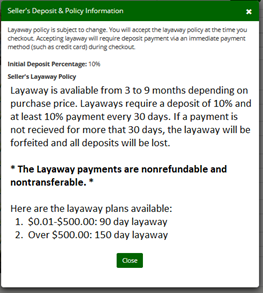 How do I checkout using Layaway?
Select your item and proceed to the checkout page.
Carefully read the seller's Layaway Policy.
If you agree with the policy, click on the "Use Layaway and Accept Layaway Policy" checkbox in Payment Information section.
Pay the initial deposit to complete the layaway purchase.
Payment of the initial deposit must be made via an Immediate Payment Method as part of GunBroker Checkout. Acceptable methods will be noted on the item listing and checkout pages. Subsequent payments will be made directly to the seller outside of GunBroker.com.
Checkout – Accepting Layaway Policy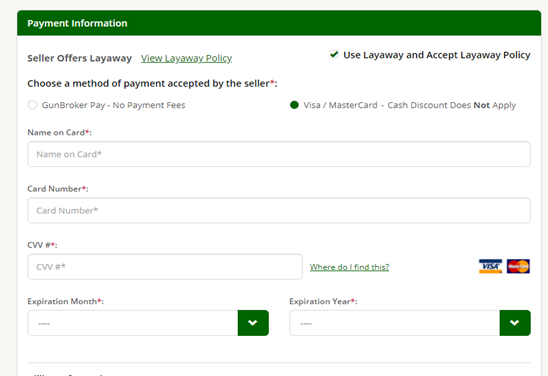 Checkout – Layaway Deposit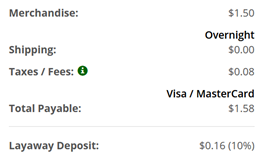 What happens after I checkout?
After you have accepted the layaway policy and paid the initial deposit, the order will be placed "On Layaway".
Won Order – Item On Layaway

Remaining payments should be made to the seller's according to the layaway policy directly to the seller. Contact the seller for details about how and when to pay.
All subsequent questions should be directed to the seller.
This status of the order will remain "On Layaway" until the seller has received all payments and marks the order as paid and thus "Pending Shipment".
Once shipped, the seller may mark the order "Complete".
Order Detail – Showing On Layaway