As you know, GunBroker.com is the world's largest marketplace for firearms, ammo and accessories. It has been a very interesting and exciting 2020. GunBroker.com thanks you, our valued partners, for offering customers the largest selection of products at the best every-day prices. To maintain this leadership position, GunBroker.com periodically makes updates to improve the user experience, and we want to keep you, our valued sellers, up to date with the changes being made to GunBroker.com.
We have had many conversations and have received valuable feedback. We have implemented, and are still working on, many of the suggestions to enhance the overall ecommerce experience for our customers.
BitRail
Pay your GunBroker Fees with Bitrail and Save 1%
Sell items with Bitrail instead of credit cards and reduce your processing fees
Sell items with Bitrail to eliminate waiting on checks and money orders
Self-Service Advertising
Provide additional exposure for your listings
Cross sell by product or category
Allows for one advertising spend across many items
Learn more at https://ssa.gunbroker.com
Layaway
Set your own policies for the sale
Collect the deposit automatically via GunBroker Checkout
Learn more about Layaway
Internet Sales Tax Processing
GunBroker is going to start collecting sales tax as a marketplace facilitator
eFFL Process Creation
Submit your FFL paperwork & we send it to sellers for shipping
Ability to update your FFL Number online
Learn How to Add your FFL License Document
Selling Process / Checkout Change
Moved the actual selling / ending of the listing until after payment is successful
Eliminates non-payers for sellers using immediate check out
Credit Request Process Changes
Category Expansion
We have added many new categories
Default FFL
Added the ability for buyers to select and save a default FFL
Allows for quicker checkout
Avoids tendency for buyers to wait to select an FFL
Sold Orders Grid Improvement
Colors and Icons to indicate progress
Inclusion of more data directly on the grid including item specifics
Ability to expand and collapse sections of the grid allowing you to see exactly what you need
Added Payment Gateways
GunBroker continues to add more payment gateways
Click to see the current list
Listing Process Rewrite
New process continues to be developed
Received very positive feedback
Please give it a try and let us know your thoughts
Other Changes
Numerous Updates to User Interface to create more responsive pages
Added search filters

Accepts Bitrail
No Credit Card Fees
Layaway Available
Other features that continue to expand.

Take a Shot
Allow buyers to make offers with automated controls
Coupons
Give buyers coupons for use on your products
Enhanced Searchable Characteristics
You add a UPC to your listing
Then we supplement your listing with searchable characteristics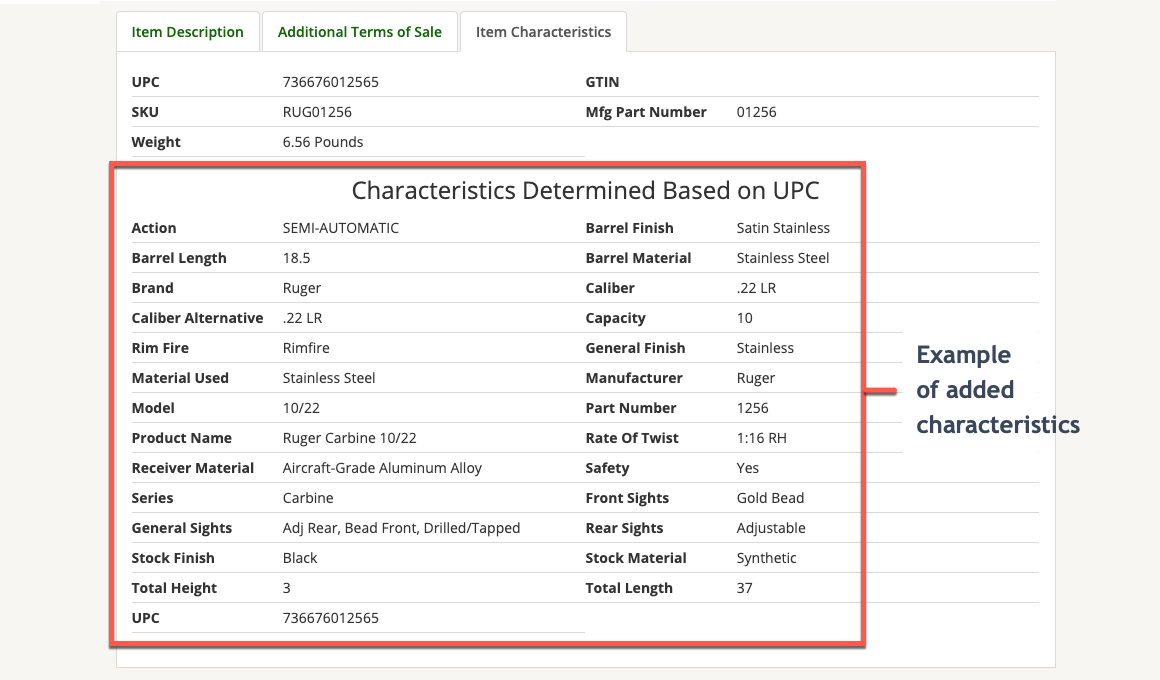 Continued SEO Enhancements
Providing greater exposure to your items via internet search

Learn more about what's Coming Soon.

If you have questions about any of this information send a message to SiteInfo@gunbroker.com with your question. Thank you.