How to Register
The registration process requires your personal contact information. This information is available only to our staff, in order to contact you regarding transactions and your account. GunBroker.com will not share your information with third parties without your consent.
Please, view GunBroker.com Privacy Policy for more information.
Choose if you would like your information pre-filled based on your phone number and Date of Birth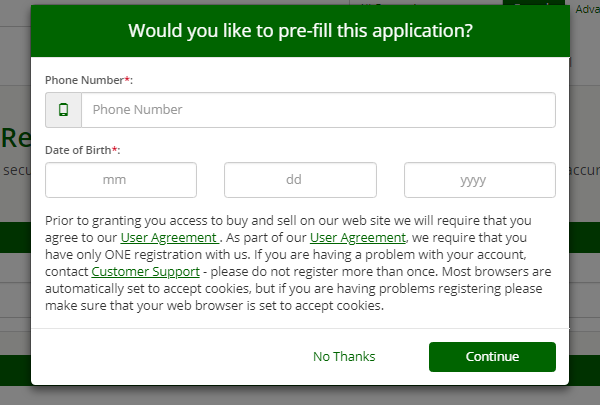 Note: Click and read the "User Agreement" before continuing the registration process.
If you pre-fill click "Continue"

You will receive a confirmation/verification text to the phone number submitted

If you select "No Thanks"

Manually input your contact information and click "Continue"
Once your personal contact information is submitted, we send an email which contains an Registration Code and a link with instructions to complete the registration process.
Note: Persons knowingly entering false contact information may face legal remedies if used to defraud this site or another registered user.
Account Profile Policy
The account profile is required to be the personal contact information for the owner of the account.
Valid First and Last name
Street Address
Phone number
Email address
DO NOT Submit:
Business Address
PO Box
PMBs
Personal suite address
Note: These addresses can be added to the account as an alternative address, after registration.
Registration Code
GunBroker.com will send a Registration Code to the Registration Email address in order to complete the account activation process.
Note: Please ensure your email provider will accept communication from @gunbroker.com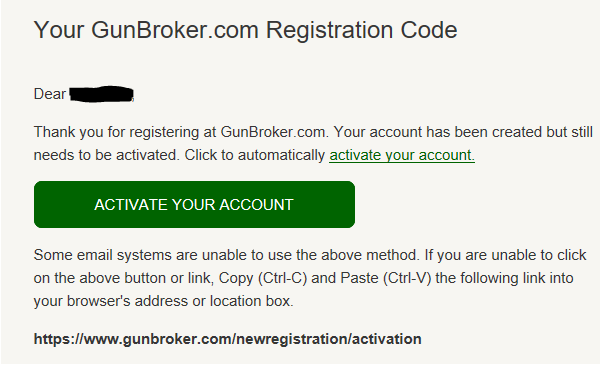 When you register with GunBroker.com, we send a Registration Code to the Registration Email Address you provided in your contact information.
When you receive the Registration Code:
Either click the "Activate your Account" button which will automatically activate your account
OR
Copy the new registration link and open a new browser tab and paste the link. You will need to manually input your Username, Password and Registration Code and click "Submit".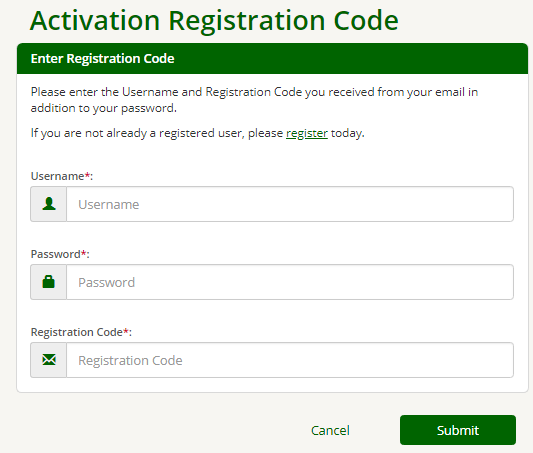 Click here to enter Registration Code.
If you do not Receive the Registration Code
For the Registration Email address submitted:
Check Spam folder
Check Junk mail
Check Trash folder
Ensure your email provider is not blocking communications from GunBroker.com
Click here to resend Registration Code.