Proposition 65 – Prop 65 updated 12/07/18
Safe Drinking Water and Toxic Enforcement Act of 1986
What is Proposition 65 ?
The state of California enacted Proposition 65 in 1986 to protect the state's drinking water sources and the regulation requires businesses to provide warnings to Californians concerning significant exposures to chemicals. Certain sellers are required to display a warning if products contain chemicals and/or substances which may impact the health of California buyers. The requirement to provide the chemical information has been enforceable since August 30, 2018.
How can GunBroker.com Help ?
GunBroker.com recognizes all sellers do not fall within the stated parameters, but wanted to provide a seamless method for those affected to provide the necessary information for their listings. During the listing process a seller is able to insert the required information in the designated California Prop 65 Text: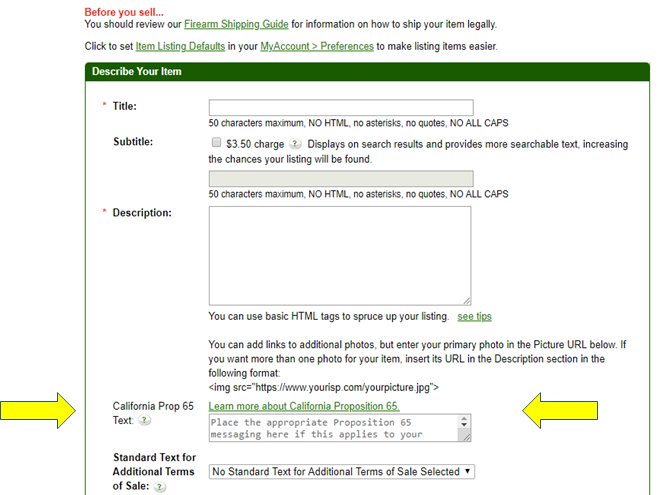 Once you have provided Proposition 65 information during the listing process (if required), the information will appear within your listing, below the Item Description information, as displayed below:

If you require additional information, please use the following link: www.p65warnings.ca.gov